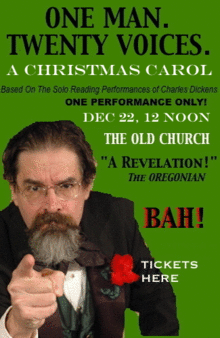 The holidays are upon us, NW performers, and it's time to celebrate!  Of course, celebrating the holidays can be a challenge for professional performers – while everyone else is out reveling, we're often hard at work entertaining those holiday revelers!
Veteran actor Thom Bray knows this.  That's why he wants to give APP-NW members a chance to make the season merry with a special discount on tickets to his Victorian Reading of A Christmas Carol at The Old Church on December 22 at 12:00PM.
In the middle of the Victorian age, Americans flocked to church halls, theatres and auditoriums to hear Charles Dickens give a dramatic, solo rendition of his classic holiday tale, A Christmas Carol.

Thom Bray recreates Dickens' solo performance in the tenth annual production of A Christmas Carol at The Old Church, itself a late Victorian landmark.  Working from the text of the author's original reading copy, Bray faithfully re-creates the theatrical experience that Dickens' Victorian audiences had!

The Oregonian said of Bray's performance, "No ghostly apparitions floating down from the fly space or up from a trap door. No street-scene crowds or wooden crutches. Just a room, a text, a voice and the audience's imagination." (Bob Hicks, Oregonian, December 17, 2005.)

"Dickens was a frustrated actor, and quite good, from all reports," says Bray, who will climb into full Victorian evening dress for the performances. "He loved performing this piece, and his audiences adored seeing him play all the parts."

The piece requires the audience's imagination. "That's what I love about it," says Bray. "Sure, a big lavish production is nice, but by going back to the way the author first shared his favorite work with audiences, magic happens."
As a professional performer himself, Thom knows how important it is for performers to be treated well in their workplaces.  Because he supports The Alliance of Professional Performers – NW's mission, a portion of the tickets you purchase from PDXChristmas.com (or by phone at 1-800-838-3006 – ask for event #892695) using discount code APP will be donated back to APP-NW so we can continue our work in the new year!
The holidays are a time for people to come together – and performers coming together is just what APP-NW is all about!  So take a moment out of your busy holiday schedules, NW performers, and join your fellow performers at a theatrical experience you won't forget!  You'll be helping The Alliance of Professional Performers – NW, and you'll be giving yourself a chance to take part in the holiday festivities… before you get back on stage or in front of the cameras to bring the holidays to other people!
Happy holidays from The Alliance of Professional Performers – NW!
Comments
comments